Tester of Stress Concentration TSC‑9M‑12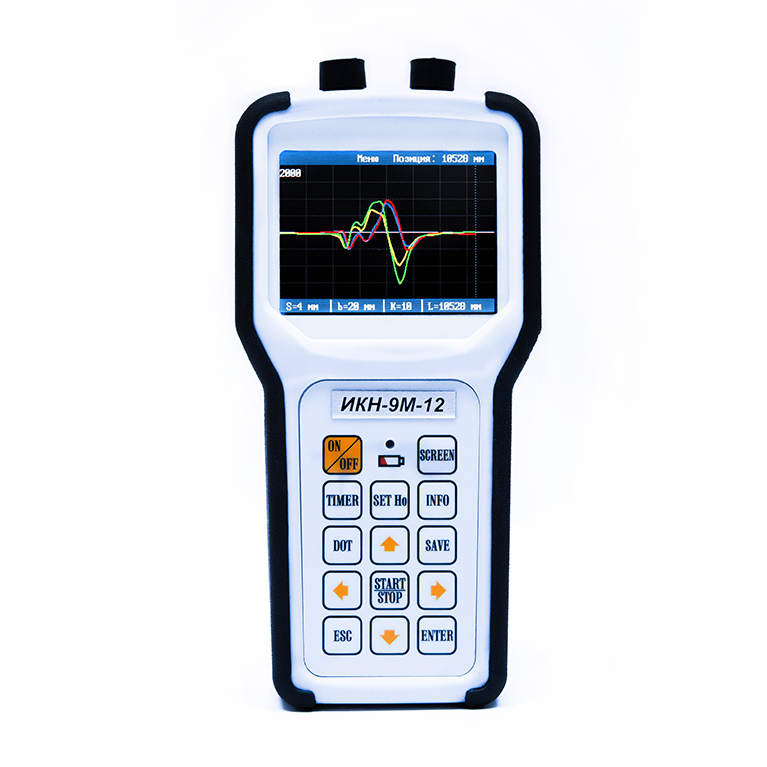 From 2 to 12 measuring channels
TSC is a system for measuring, recording and processing of diagnostic data about stressed-strained state of equipment and structures using the metal magnetic memory method.
Certificate No. 87758-22 for TSC-type instrument
Conformity declaration EAEU N RU Д-RU.РА04.В.89293/22
In stock
Contact the company manager to order
The TSC-type devices are manufactured serially. By the operation principle they are specialized multi-channel flux-gate magnetometers. The Н magnetic field intensity is calibrated on instruments' scales in A/m (Ampere/meter). The length of the recorded sensor movement is calibrated in mm (millimeters).
The TSC-type devices are unique means of measurement although there are a lot of various gages of magnetic field intensity (magnetometers) based on flux-gate transducers in Russia and abroad. Their uniqueness is both in their functional designation (detection of stress concentration zones, which are the main sources of equipment damaging) and in their structural specific features, marking them out significantly among the known magnetometers.
The distinctive features of TSC-type devices are:
Multi-channel operation
Scanning devices (20 types) allowing reading the values of field intensity and sensor movement length at a speed up to 0,5 m/s (all scanning devices are protected by Russian and International patents)
Software for automatic processing of results directly on test objects
Flash-memory for recording the results of object inspection and possibility to transfer the data to computers
Possibility to record inspection parameters with a specified frequency at a time unit ("timer" mode), which allows to execute inspection at products movement relative to sensors (inspection of rotating elements, moving ropes and cables, inspection of rails at flaw detector car movement, etc.)
"MMM-System" software for computer processing of inspection results in Windows 7/8/10
The TSC-9M-12 device has the following structural and functional distinctive features:
From 2 to 12 flux-gate transducers
Microprocessor 16 bit
RAM 2 Mb
256 Mb flash-memory for recording of inspection results on object during 15 days without transferring the data to the computer
Special keyboard with 14 functional keys
Color organic light-emitting diode display (OLED-display) with resolution of 320х240 pixels possessing high contrast and brightness and not requiring additional lighting while being more efficient. Therefore it is readable practically in any conditions, which is very convenient while working on outdoor objects
Dimensions 165х83х32 mm
Weight including storage batteries 0,4 kg
Power supply from built-in storage batteries DC 5V
Common technical data of TSC-type devices:
| | |
| --- | --- |
| Range of Н measurements | ± 2000 A/m |
| Basic relative error of the measured magnetic field for each channel | 5 % |
| Relative error of the measured length does not exceed | 5 % |
| Minimum / maximum scanning step (the distance between the two adjacent points of field and length measurement) | 1 / 128 mm |
| Operating temperature range | -15 - +55 °С |
| Operating humidity range | 45 - 85 % |
Comparison characteristics of TSC-type devices:
| | TSC-2M-16 | TSC-4M-16 | TSC-5M-32 | TSC-7M-16 | TSC-8M-4 | TSC-9M-12 |
| --- | --- | --- | --- | --- | --- | --- |
| Number of Н value measurement channels | 2 - 16 | 2 - 16 | 2 - 32 | 2 - 16 | 2 - 4 | 2 - 12 |
| Maximum scan speed in steps of 1 mm | 0,7 m/s | 0,5 m/s | 1,3 m/s | 1,3 m/s | 0,5 m/s | 0,5 m/s |
| Microprocessor | 16 bit | 16 bit | 16 bit | 16 bit | 16 bit | 16 bit |
| RAM | 2 Mb | 1 Mb | 8 Mb | 8 Mb | 1 Mb | 2 Mb |
| Flash-memory | 1 Gb | 32 Mb | 1 Gb | 1 Gb | 8 Mb | 256 Mb |
| Data transferring to PC | USB | RS232/USB | USB | USB | USB | USB |
| Keyboard | 14 keys | 45 keys | 52 keys | 45 keys | 14 keys | 14 keys |
| Display | LCD, 320х240 pixels | ELD, 320х240 pixels | LCD, 800х480 pixels | OLED, 800х480 pixels | LCD, 320х240 pixels | OLED, 320х240 pixels |
| Dimensions | 243х120х40 mm | 290х205х55 mm | 250х136х48 mm | 230х105х40 mm | 165х83х32 mm | 165х83х32 mm |
| Weight including storage batteries | 0,6 kg | 2,0 kg | 1,2 kg | 0,6 kg | 0,4 kg | 0,4 kg |
| Power consumption | 1,2 - 3,0 W | 4,0 - 5,0 W | 3,0 - 3,5 W | 1,2 - 3,0 W | 1,2 - 3,0 W | 1,2 - 3,0 W |
| Power supply | built-in battery | built-in battery | built-in battery | 4x1,2V AA | built-in battery | built-in battery |
| Powered by the AC adapter | DC 5V | DC 15V | DC 15V | DC 9V | DC 5V | DC 5V |